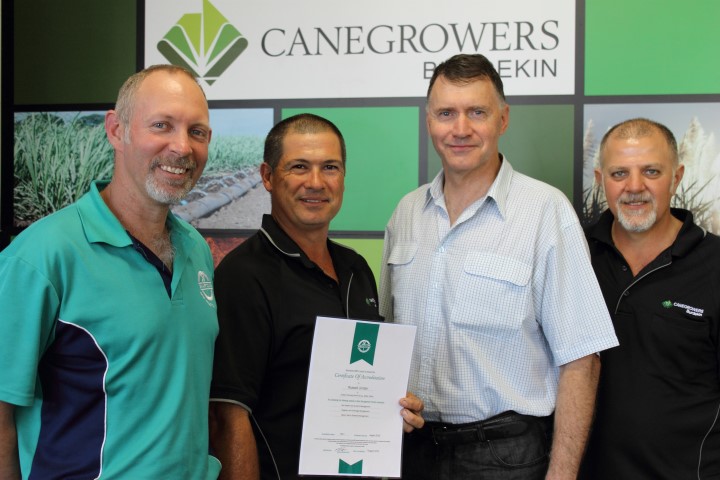 A CANEGROWERS policy council member who wants to silence the cane industry's critics and a relatively new grower are the latest farmers to be accredited in the best management practice program, Smartcane – in the process proving they are world class producers of quality, sustainable sugar.

Burdekin grower Russell Jordan and Herbert River grower Walter Giordani have completed and been audited in the three modules: Soil Health and Plant Nutrition; Pest, Disease and Weed Management; and Drainage and Irrigation management.

Russell Jordan (pictured holding his certificate) says Smartcane BMP means he can show he is caring for the Great Barrier Reef while producing around 30,000 tonnes of quality cane from four irrigated farms at Giru.

"When we cop criticism, we can now put this up as proof we are doing the right thing as an industry," he said.

And for him, it was definitely worth finding the time around farm work and family to pull together the evidence the process needed – with early mornings proving to be the best time.

"We keep good records of what we do so I just had to sit down in spare moments, a little bit each day," he said. "I found getting up half an hour earlier with a coffee before the kids woke up worked for me. "And as a Policy Council Member and CANEGROWERS Burdekin director, if we're telling growers to do it, we should be doing it," Russell said of his decision to push through and be audited.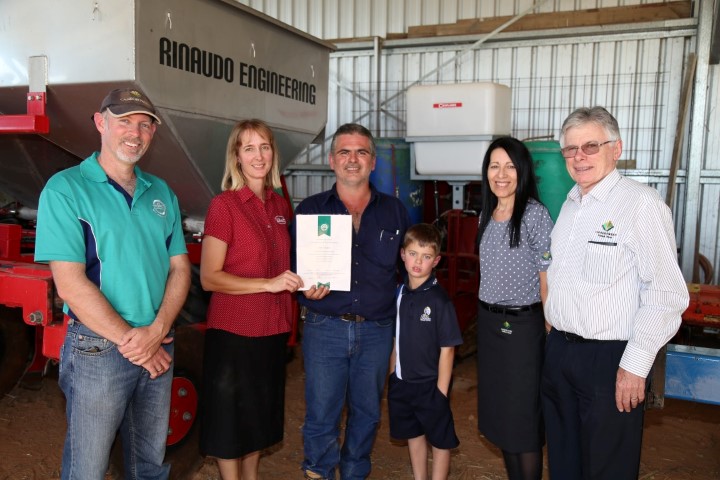 For Walter Giordani, who with his wife Nadine has 100 hectares over two farms at Bambaroo, the Smartcane BMP modules were a way of checking that they were on the right track with their farming practices and plans.

"I'm a relatively new grower as it's only in the past six years that we bought our farms and expanded so I'm keen to adopt and implement any best management practices," he said.

"We're already going down the path of controlled traffic and wider row spacings and this has cemented the ideas we've had for our business and confirmed the direction we're heading in.

"We saw a lot of value in doing it," he said. "It was a team effort with Nadine doing most of the entries into the Smartcane BMP website – she did all the hard work on the computer!"

While Walter and Nadine have been accredited as already meeting industry best practice, they have plans to improve further when budgets and finances allow.

Having now achieved his accreditation in the three key modules, Russell is encouraging everyone who's registered with Smartcane BMP to continue on to be audited as well.

"It wasn't too hard really," he says."I'd encourage everyone to go and see their local facilitator who'll put them on the right track with a list of things to do and then just work through it."

Smartcane BMP Project Manager Mick Quirk says BMP is important for a number of reasons – it can help identify the practices that are most likely to improve efficiency, production and profitability while demonstrating to our communities and overseas customers that our sugar is sustainable, and help Australia maintain a competitive edge.

"Many Queensland growers have registered and done the self-assessment stage, now we are seeing many of them start to move towards seeking accreditation," he said.