Case Study
Towering above the cane fields at Murray Upper, just south of Tully Township, is a contraption that has allowed sugarcane grower Peter Vecchio to save time and chemical use. This contraption, also known as an overrow sprayer, is going a long way in assisting Peter to save money and precious time on his cane farms, scattered across the Tully region.
Built from the ground up by Peter and employee Kevin O'Kane, the spray rig has its base on a John Deere 6400 tractor, and is fully GPS automated, rate controlled and auto-steer. Part Reef-Rescue funded, the overrow project is not the first time the Vecchios have been involved with the federal government program. In the first year of funding, through natural resource management group Terrain, they set up their tractors for GPS and also set up a chemical tank with a boom for rate controllers and individual spray sections (swath control) – reducing chemical use.
"With this, it means you're not spraying the whole 15 metres across the end of a block," says Peter. "With angled rows, when you're spraying, each row might end one metre outside the paddock. Now, as long as your farm is mapped, which ours are, the GPS sees it and activates the spray only over the row area, using the GPS and maps. It saves us on chemicals as it stops right on the end of the row."
As Peter explains, the GPS computer program also helps with record keeping.
"The program records everything," he says. "It records all tasks we do on farm using the GPS, including the name of the operator, the wind speed, temperature, how much chemical and fertiliser went out and what you're applying. I can now bring up a field summary for the year, for that paddock. The records will show how much chemical and fertiliser for example went out, where it went, and it also shows the average for the year."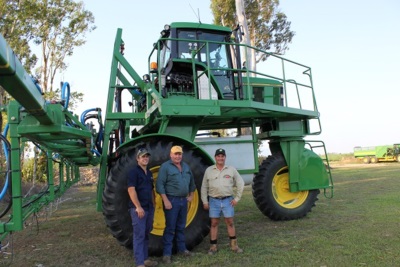 Peter Vecchio (far right) with his son Cameron (left) and Kevin O'Kane (middle) in front of their new overrow sprayer which is saving money and time on the Vecchio's Tully farm.
Peter says they also put a rate controller on the fertiliser box the first Reef Rescue year. Peter says the build didn't actually finish until 2012, and the Vecchios were able to use the sprayer during some of the 2012 season – where it was used to spray 80 hectares (200 acres).
"We averaged about 115 acres [46 hectares] a day – it went really well. We managed to spray 450 acres [182 hectares] comfortably in four days – in daylight hours," says Peter.